Grant McLennan 1958-2006


For news and tributes, go to Jonathan's go-betweens.net
My interview with Grant is here.


the old out of date page follows. In light of the tragic news, I think their post-1999 arrangement of Clouds, live, is one of the finest moments in all of their time collaborating. The Simon & Garfunkel approach, as Robert put it.

---
"IT'S CHRISTMASTIME AND JINGLE BELLS RING..."
Welcome to a page about the music group that some consider to be the Best Ever.
Since 1995

Dedicated to Grant McLennan
Dedicated to Morten Skjefte
---
..... 2016..... when you think about their entire canon.... I wonder if the best of the best of the best isn't Clouds (RF) and Unkind & Unwise (GM). Of course it is impossible to distill them and you wouldn't want to. But, these are the most sublime moments in my opinion. Now I'm going to stop writing before I think of more.
---
I'm stealing this remark from the strawberry switchblade site. "This is a totally non-commercial site with no advertising or sponsorship by any commercial stuff. Browse away untroubled by migraine-inducing banner ads, irritating pop-ups or any other form of commercial crap for products you don't need from people you don't like."
---
It's currently thanksgivingtime, 2013, and some sort of bells ring. Time for some "news" in the form of a new rip of a cassette tape.
At the end of 1995, Robert played "I Can Do," acoustic, at an internet cafe in Australia called The Hub. And he did a web chat with fans!
(Late 1995 is quite early for this kind of thing.) I am trying to remember who was present. I know Sean Brady at that time was Super Robert Fan of the known universe. Very nice guy,
and I was grumpy towards him, which is silly. Also, I think Austin McLean was there. And who else? Jen Matson from Nonstop Diatribe? The
insert from Non-Stop Diatribe #1 was a color poster of about 18 Go-Betweens sleeve and it STILL adorns my wall! I remember chatting with Jen
about "Unkind and Unwise". She pointed out the lyric "I turn to hold you, you're gone" while I was more excited by lyrical fireworks and breadth, like the crane on the water silently feeds. Dang, it is really when you put these two kinds of things together that you get a great song. I and friends always used to denigrate The Cure for being relentlessly about timelessness and universal truths and loss and longing, etc, but apparently no interest in incorporating a Visions of Johanna/Tom Thumb's line to make it interesting in more than one way at once. (2013/2016)

So I finally ripped "I Can Do" from an old C90, and will be putting it up, pending I Can Do, Acoustic, 1995

---

Coming soon: something about Rachel Worth and the 2000 tour. This page is out of date but overflowing with love....


---
A Brief Show Report, 7/3/99
Well, the tour is now over. I saw the San Francisco show at the Great American Music Hall, the LA show at the Troubadour, and the free instore at Rhino Records, and they were all amazing!

Clouds
One of the most astonishing things about the GAMH and Troubadour shows was their new arrangement for "Clouds". On the album, Robert kind of wails, but in this version, they sang the lines in unison in these low, breathy tones. At the Troubadour they were bathed in red light. Robert was doing a little step, forward and back. That, combined with Robert's suit-wearing ways, reminded me of a Stax group like the Dramatics.

Stax Soul?
A few minutes after the Troubadour show, both of them came back out and sat on the edge of the stage, signing stuff and chatting. What a thrill! I asked Robert about the Stax quality and he said yes, and in fact there's even a little Stax in Warm Nights. A revelation!

Falling
Another real treat of the shows was the place in "Spring Rain" where they break into a little acapella, "falling... falling... you hear it...." It was beautiful.

Lie Down and Die
It's making me spoiled the way all these solo songs are getting the Grant & Robert treatment. I love Danger in the Past, but "Baby Stones" just isn't the same without Grant singing "lie down and die...."

---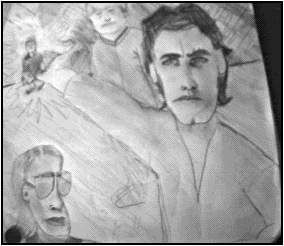 One interview, two Wavs:

o My interview with Grant is up here. It's from Horsebreaker Star days.

o A couple of tracks: Hope (wav) Clouds (wav) I Can Do (mp3)
o "This will be our year......." All six albums have been rereleased by Beggars Banquet. Evidence for the existence of god......
Links:
Review of the show at the Knitting Factory, very late 2000
Gareth Gustav Jen Jonathan Sean Tina ... Beggars Banquet: page about the 1999 tour .. visit them all ..